How to Wash a Car the Right Way

Washing a car regularly helps to keep it looking like new, but that's not the only reason that drivers should know more about car wash frequency! Yes, knowing how to wash a car is essential if you want to prevent exterior damage, rusting, or fading. Any of these issues might weaken a vehicle or lower its resale value, but once you know how the process works, it's relatively easy to keep things looking and working as they should.
Gather Up Your Supplies
Getting ready to wash a car? Make sure you have everything you need on hand:
Although you might be tempted to use household products like dish soap or Windex, the truth is that you're better off using specialized products, free from ammonia and other chemicals that could damage your exterior.
For the wheels and tires, use an acid-free pH-balanced aluminum cleaner. Or, talk to an expert to find a product that will work for your wheels.
Once you have the right cleaner for each surface, you're going to want to have a couple of buckets–one for fresh and the other for soapy water. It's never a bad idea to have a hose on hand, as well!
Don't use any old sponge, as some products can leave tiny but undesirable scratches on your vehicle. We recommend a wash mitt, as well as soft terry cloths for drying. A clay bar can be helpful for removing stuck-on sap and debris.
You'll also want to grab compound, polish, and wax from your local parts department. Carnauba and polymer wax are both common, but the latter will dry more quickly.
How to Wash a Car: Step-By-Step
Rinse your car off with the hose or your fresh water bucket. This will remove heavier debris that might scratch your vehicle if it isn't washed away. Don't forget to hit the sunroof or moonroof.
Wash the first rinse out of the way, soap up your washing mitt and use it to clean the car thoroughly. Work top to bottom, and dry as you go in order to limit the spread of swirl marks.
After the car's primary exterior surfaces are cleaned, use an ammonia-free solution to clean each of the windows. You're going to hit the wheels, tires, and wheel wells last, as these spots will often be the dirtiest.
Use your clay bar to remove anything that might still be stuck on the surface of your vehicle, but as always, remember to work carefully. Once this step is done, apply 2-4 layers of compound evenly across the surface.
Next, apply a dual-action polisher to give your car that glossy, "brand-new" look. Although you can use an orbital buffer to spread the polish out, you won't have much control over the end result. We recommend a soft towel.
Lastly, it's time to apply a fresh coat of wax. Either type identified above will lock in your clean and lock out damaging agents like road salt and UV rays.
How Often to Wash a Car
Your recommended car wash frequency will vary, depending on how and where you drive. If you often run into road salt on the roads near , or like to go off-roading out past , frequent car washes are of the utmost importance. In these cases, you'll be best served by a weekly car wash, even if it isn't quite as extensive as the process described above. Make sure you get under the car, too!
If you only really use your car for commuting, and the weather's treated you well, getting your car washed one to two times a month is probably sufficient. Although you won't need to wax every time, we think it's important to do so at least twice a year.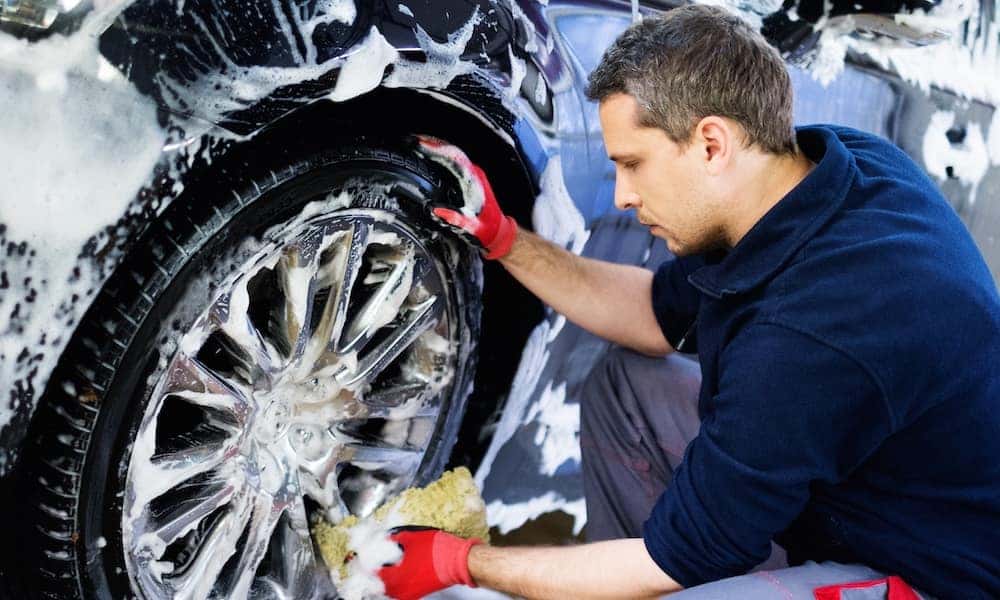 Learn More with the Sam Leman Automotive Group!
Want to learn about the difference between hand car wash vs. touchless car wash? Would you like to learn how to clean car seats? Our service team is always happy to offer car care tips to our valued customers throughout the Central Illinois area. Don't hesitate to contact us if you have any further questions on how best to maintain your vehicle.
More From Sam Leman Automotive Group
If you've been looking to buy or sell a car recently, you may have noticed that used car prices have been going up across the country. Finance CenterContact Us Why are car prices going up? It's all due to the coronavirus pandemic which has caused supply chain issues and altered buying patterns, resulting in…

With its reputation for delivering rugged performance and strong towing capabilities, the RAM 1500 is designed to meet the challenges of your Central Illinois job site. If you need a pickup truck that is a real workhorse, you'll want to take a look at the 2021 RAM 1500 trim levels to choose the model…

The Jeep Renegade is one of the most popular models in the Jeep lineup, offering strong performance and superior off-road prowess. Along with these robust capabilities, this compact Jeep SUV also comes loaded with convenient features that will enhance any drive in the Central Illinois area. Perhaps best of all, the 2021 Jeep Renegade…