How Often Should You Rotate Your Tires?

How often should you rotate your tires if you drive through Bloomington or Peoria? If you've been wondering when to rotate tires, you should know that most drivers schedule tire service every 5,000 to 7,500 miles, at around the same time that they get their usual oil change.
When to Rotate Tires: 2WD vs. AWD
You'll have to answer at least one more question before you know exactly how many miles to rotate tires for: What kind of car do you drive?
Both front-wheel drive and rear-wheel drive models should have their tires rotated during the 5,000-7,500-mile interval, identified above.
For AWD vehicles, you should rotate your tires every 3,000-5,000 miles in order to maintain the full benefits offered by your drivetrain.
Because all-wheel drive models can direct power to all four wheels, it's only natural that the tires would need to be rotated more often in order to even out treadwear. Remember: Your drivetrain isn't the only factor that could affect how often you should rotate your tires. If you engage in frequent off-roading or heavy towing, you'll want to schedule service more often.
Tires usually require a rotation once the tread variance exceeds 2/32 of an inch, so you can use this measurement as a guideline if you're not sure when your last rotation occurred.
I'm Due for a Rotation. Can I Rotate My Tires At Home?
The answer to the question, "How often should you rotate your tires?" has surprised more than a few of our Central Illinois neighbors. If you'd like to save on this important service, you'll need to learn how to start the process.
Here's what you should know if you're going to rotate tires at home:
You can always consult your owner's manual for exact tire rotation guidelines.
Your rotation pattern will vary with your drivetrain.
For FWD vehicles, flip the rear wheels from side to side as you move them to the front.
For RWD vehicles, do just the opposite: Swap the sides of the front wheels when you move them back.
No two AWD systems are exactly alike, so you should talk to an expert or consult your owner's manual when performing an at-home tire rotation for one of these vehicles.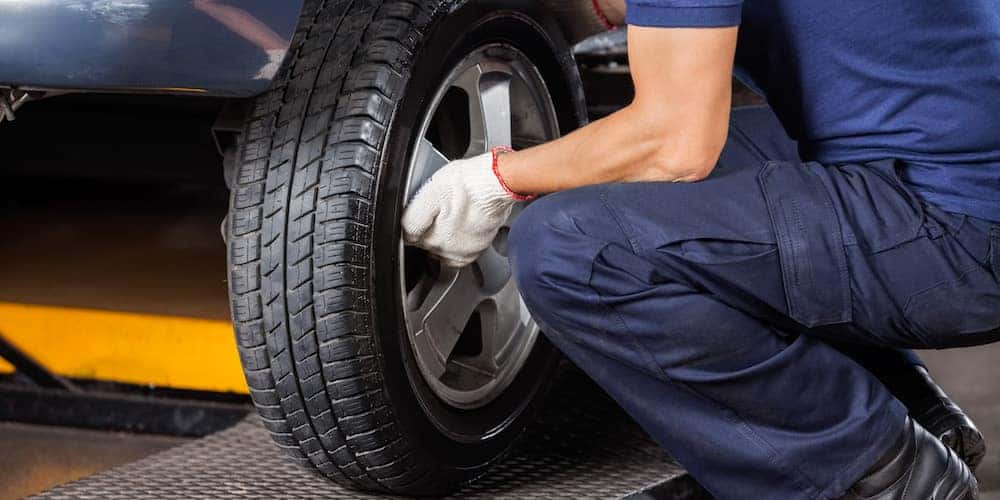 The Sam Leman Automotive Group is Your Source for Tire Service
Has your tire rotation interval arrived? Schedule tire service with the Sam Leman Automotive Group at any of our easy-to-reach local service centers. Still doing tire research? Find out how a suspension adjustment could extend your tire lifespan, or learn a little bit about the importance of proper tire pressure. We are also happy to share other maintenance tips, such as how to clean car seats and how long spare tires last.
More From Sam Leman Automotive Group
If you've been looking to buy or sell a car recently, you may have noticed that used car prices have been going up across the country. Finance CenterContact Us Why are car prices going up? It's all due to the coronavirus pandemic which has caused supply chain issues and altered buying patterns, resulting in…

With its reputation for delivering rugged performance and strong towing capabilities, the RAM 1500 is designed to meet the challenges of your Central Illinois job site. If you need a pickup truck that is a real workhorse, you'll want to take a look at the 2021 RAM 1500 trim levels to choose the model…

The Jeep Renegade is one of the most popular models in the Jeep lineup, offering strong performance and superior off-road prowess. Along with these robust capabilities, this compact Jeep SUV also comes loaded with convenient features that will enhance any drive in the Central Illinois area. Perhaps best of all, the 2021 Jeep Renegade…