Yes, you can definitely trade in a financed car. However, you should know that trading in a car you've financed doesn't remove your obligation to pay off the loan. So, if you owe more on your loan than you'll receive for your trade-in, you'll still need to make payments until the balance is reduced to zero. To help you avoid this and other common pitfalls, the Sam Leman Automotive Group has put together a short guide on the subject of trading in a financed car near .
How Does Trading In a Financed Car Work?
Trading in a financed car is a lot like trading in any other sort of vehicle, with a few significant differences. To get started, you'll want to research the value of your car with online tools, and then figure out how much you can expect to get if you bring it into a dealership.
So far, there's nothing special about the process of trading in a financed car. However, you'll notice a big difference if the value you're offered is less than the amount which you still owe on your car loan. This might be the case if interest has accumulated, if your vehicle has depreciated more quickly than you've made payments, or if you failed to keep up with the necessary tasks associated with vehicle ownership
As an example, let's say you've traded in a car worth $7,000. If you only owe, say, $4,000 on your loan, then you can pay it off and put $3,000 towards a new vehicle. If you're "under water" and you still owe $8,000 on your loan, you'll be able to pay off most of it, but you'll still owe a significant amount of money.
In these cases, you'll may have to continue making payments on your old loan. If you're setting up a new financing plan at the same time, your bank or your dealership may offer to "roll over" your remaining loan balance.
What Does "Rolling Over" A Loan Mean?
If you trade in a financed car, and you happen to be "under water" on your loan, your dealer may offer to "roll over" the remaining balance. In this event, your dealer will pay off the old loan and add the total amount to the value of your new loan. When given the option, many drivers will choose to "roll over" their remaining low balance because managing one monthly payment is almost always easier than handling two!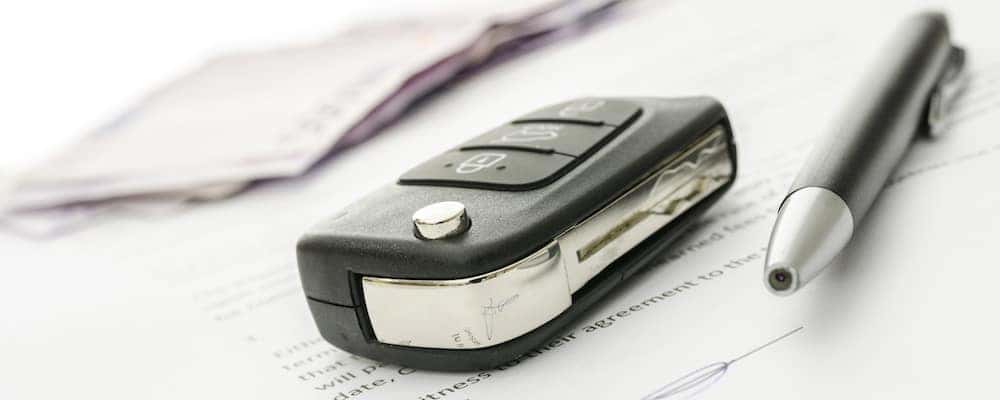 Trade In Your Financed Car Today!
When you're ready to trade in a financed car and find a new vehicle for your daily drives around and , simply contact the Sam Leman Automotive Group to get started! Our finance team is standing by to set you up with a plan that works for you.