Selling a car yourself can be difficult and time-consuming, as the process is full of uncertainty! So, if you'd like to make it a little easier to trade up, you might want to know how to trade in a car! No matter what kind of car, truck, or SUV you drive, there's a good chance that the Sam Leman Automotive Group can take it off your hands, and get you a fair market value for the effort.
Ready to get started? Our guide will teach you everything you need to know about how to trade in your car.
How To Trade In A Car Step by Step
Trading in your car is essentially a three-step process, and our Sam Leman Automotive Group team is always here to guide valued area drivers like you, should you have any questions along the way. Here's how it works:
Get an estimate of your car's trade-in value.
Get an in-person appraisal with an expert.
Negotiate and accept your offer.
After you sign any remaining paperwork, you'll be able to drive off with a new or used model that you love!
Yes, it's really that simple! We'll break down each step in detail below.
Step 1: Get Your Trade-In Car's Value
Before you get an appraisal, you'll want to shop around and get a few estimates for your car's current value! Use a tool like the Kelley Blue Book® Value or Edmunds True Market Value®. Sam Leman Automotive Group also offers our own trade-in value estimator, so you can know exactly what to expect when you come in for an appraisal.
No matter where you go, your estimate will be based on factors like your vehicle's make, model, and year, as well as its current condition and maintenance history.
Before you get an in-person appraisal, you'll want to see what cars like yours have sold for in the past! This information will come in handy if you decide to negotiate.
Step 2: Get an Appraisal
Next, you're going to come in for an in-person inspection. If you're learning how to trade in a car for the first time, this can be the scariest part of the process. After all, your final offer may differ from the estimate given before! However, you can minimize variation by being as honest and as thorough as possible during the estimation process.
In some cases, the dealership may decide that they can't resell the car that you'd like to trade in. Increase your chances of getting accepted by taking care of all your recommended maintenance on time.
Step 3: Negotiate or Accept a Trade-In Offer
Did the in-person appraisal end with a lower offer than you would have liked? If you've done your research, and found that similar models have often sold for a better price, you're in a good position to negotiate. If you've gotten multiple appraisals, you might be able to leverage them to your advantage.
Some car buyers will not let you trade in a vehicle with an outstanding loan. If you have questions about how to trade in a financed car, you'll want to contact your local Sam Leman Automotive Group dealership to learn more about your options.
If you choose to accept the offer, you'll be able to put the money towards your next vehicle. In most cases, you'll even have the option to walk out with cash in hand! If you're planning to move forward with a purchase right away, you'll want to know how to qualify for a car loan or lease.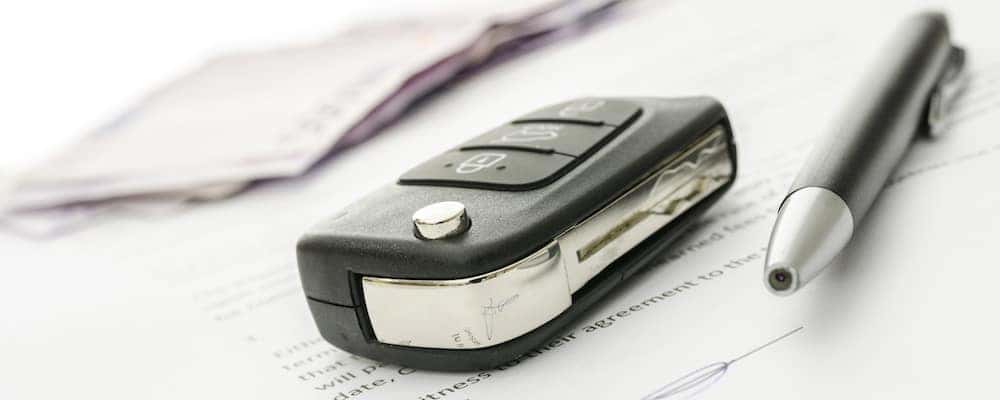 Let the Sam Leman Automotive Group Take Your Old Car Off Your Hands!
We are proud to offer great trade-in values to our customers. If your current vehicle is a potential trade-in, try out our value calculator and contact us today. We look forward to working out a deal with you, and hopefully getting you behind the wheel of your next new vehicle as well! Our finance team is ready and willing to work with drivers from all walks of life, and we'll do whatever it takes to get you the fair market value that you deserve. You've seen how to trade in a car, so what are you waiting for? Contact us or check out our car buying tips if you still have questions.