What is Tire Rotation?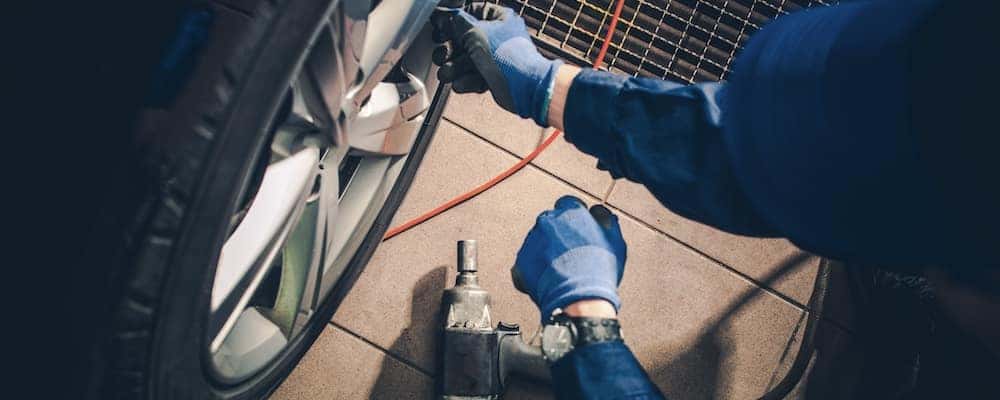 What is a tire rotation? It is a basic vehicle maintenance task that ensures the tires on your car wear evenly, helping to maintain safety, improve traction, and improve fuel efficiency.
What Does Rotating Tires Mean?
A tire rotation is a pretty simple process, though it can be complicated to do without the right tools. In a tire rotation, the tires on your car are physically moved from one position to another. Usually, the rear tires are moved to the front, and the front wheels are moved to the rear; depending on your drivetrain, one of your sets of tires will "cross" over to the other side — so that the right rear tire becomes the front left tire, and the left rear tire becomes the front right tire.
The front tires tend to wear out sooner than the rear, since they support the weight of the engine and are used for steering. By rotating the tires you can ensure that the tread wears down evenly, extending the life of your tires. This is important for your safety. No one wants to experience a blowout on the streets of East Peoria, or worse yet, somewhere out on a lonely stretch of I-74.
What Are the Benefits of Tire Rotation?
Maintaining Traction: Tires lose tread depth over time, which reduces traction. Regularly rotating your tires prevents uneven tire wear so you'll benefit from better control and handling, and your tires will last longer.
Preventing Blowouts: When your tires lose tread depth and become excessively worn down, it could lead to a potential blowout. That's a dangerous situation that any driver from Peoria to Normal will want to avoid.
Improving Performance: With uneven wear, the tires can produce vibrations that you'll feel through the steering wheel. This can often also result in steering and handling problems, especially at high speeds.
Maximizing Efficiency: Tires that get worn down do not perform as well and make the engine work harder, which reduces the fuel efficiency of your vehicle.
Schedule Your Next Tire Rotation with the Sam Leman Automotive Group
You can count on the certified service technicians at the Sam Leman Automotive Group service centers to help you take care of your tires, as well as all of your other auto maintenance and repair needs. Find out how often to rotate tires today!
Whether you're in need of an oil change, genuine OEM parts, or just need advice on problems such as water leaking from your car, or whether to use premium or regular gas, we are happy to be of service. We'll also teach you how to wash a car the right way! If you have any questions, or would like more information on car care, please feel free to contact us. Interested in newer features like paddle shifters, or curious about what happened at the 2019 Chicago Auto Show? Sam Leman Automotive Group has news on what 2019 will bring from Mazda, RAM, and more!
More from the Sam Leman Automotive Group
If you've been looking to buy or sell a car recently, you may have noticed that used car prices have been going up across the country. Finance CenterContact Us Why are car prices going up? It's all due to the coronavirus pandemic which has caused supply chain issues and altered buying patterns, resulting in…

With its reputation for delivering rugged performance and strong towing capabilities, the RAM 1500 is designed to meet the challenges of your Central Illinois job site. If you need a pickup truck that is a real workhorse, you'll want to take a look at the 2021 RAM 1500 trim levels to choose the model…

The Jeep Renegade is one of the most popular models in the Jeep lineup, offering strong performance and superior off-road prowess. Along with these robust capabilities, this compact Jeep SUV also comes loaded with convenient features that will enhance any drive in the Central Illinois area. Perhaps best of all, the 2021 Jeep Renegade…